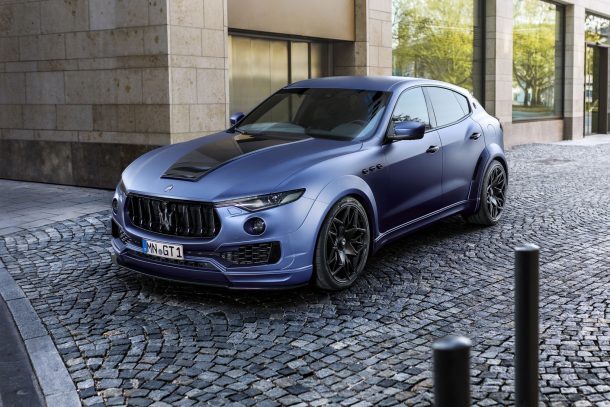 The 2017 NOVITEC Maserati Levante ESTESO SUV is the latest offering from the German tuning and performance company, NOVITEC. They specialize in redesigning and refining popular vehicles and by the looks of it the latest model they decided to perfect is none other than the popular SUV from the Italian luxury vehicle manufacturer, Maserati, the Levante.
Design
The 2017 NOVITEC Maserati Levante ESTESO features a powerful design filled with various Novitec add-ons like the aggressive new fender flares, revamped front and rear bumpers, new spoilers, as well as the optional hood scoop. These are just some of the features that help improve the vehicle's aerodynamics and make the add to the visuals. Novitec's first class makeover of the Levante includes panels that are manufactured in OEM quality from PUR-Rim. They can be installed at any NOVITEC partner around the world.
As for the interior, you have a bevy of options and variations. The owner can customize the cabin any which way he or she desires to. Novitec is offering tailor-made carbon elements for the dashboard, center console and door panels. Moreover, you can choose the interior color of your liking coupled with grains, surfaces finishes, and even wood trim sets of your choice.
Engine and Powertrain
Novitec allows you to tune performance for both gasoline and diesel engine variants of the regular Levante. The pimped out version of the twin-turbo six-cylinder engine increases the output to 494 horsepower and 487 lb.-ft of torque. This kind of horsepower will take you from zero to 62 mph in 4.8 seconds, with a top speed set at 170 mph. This relates to the top of the line Levante S trim. Novitec upgrades to the entry level 250-horsepower diesel engine increases the output to 301 horsepower, while the 275-horsepower variant goes up to 322 horsepower which allows the vehicle to go from zero to 62 mph in 6.2 seconds.
2017 NOVITEC Maserati Levante ESTESO Release Date and Price
The 2017 NOVITEC Maserati Levante ESTESO is yet to receive a release date or pricing. Our estimate, when we account in all the new features and improvements to the regular Levante, is that this new model will start anywhere from $50.000-$60.000. This price does't include the donor vehicle which can set you back at least another $70.000. For those interested in buying this new model, it may be best to contact Novitec directly for more information.